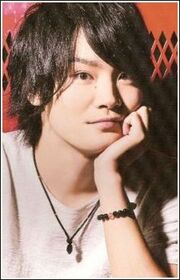 Yoshimasa Hosoya (細谷 佳正 Hosoya Yoshimasa, born February 10, 1982) is a Japanese voice actor from Hiroshima. He is affiliated with Mausu Promotion. He is also a member of the pop duo MaxBoys along with Masuda Toshiki (増田 俊樹 Masuda Toshiki), a fellow Japanese voice actor.
Prince of Tennis
Edit
Yoshimasa voices the captain of Shitenhōji's tennis team, Kuranosuke Shiraishi.
Personal Information
Edit
Given name: 佳正
Family name: 細谷
Blood type: B
Hometown: Hiroshima, Japan
Skills & Abilities: shooting (gun)
Yoshimasa has previously worked with Junichi Suwabe, Daisuke Ono, Sōichirō Hoshi, and Kōsuke Toriumi in the anime, Kuroko no Basket.
When Yoshimasa first auditioned, he used a tape audition.

He was in training school when he auditioned.

He auditioned for both Hirakoba Rin and Shiraishi Kuranosuke.
He seems to have good memory of people's clothing.
During the recording of Shiraishi vs Fuji singles match, he was so nervous, Yuki Kaida had to calm him down.
Ad blocker interference detected!
Wikia is a free-to-use site that makes money from advertising. We have a modified experience for viewers using ad blockers

Wikia is not accessible if you've made further modifications. Remove the custom ad blocker rule(s) and the page will load as expected.