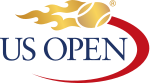 The United States Open Tennis Championships is a hardcourt tennis tournament which is the modern version of one of the oldest tennis championships in the world, the U.S. National Championship, for which men's singles was first contested in 1881. Since 1987, the US Open has been chronologically the fourth and final tennis major comprising the Grand Slam each year; the other three are the Australian Open, French Open and Wimbledon.
In Prince of Tennis
Edit
In the anime, Ryoma is selected as a wildcard to participate in the US Open, against former world No.1, Lleyton Hewitt.
Ad blocker interference detected!
Wikia is a free-to-use site that makes money from advertising. We have a modified experience for viewers using ad blockers

Wikia is not accessible if you've made further modifications. Remove the custom ad blocker rule(s) and the page will load as expected.