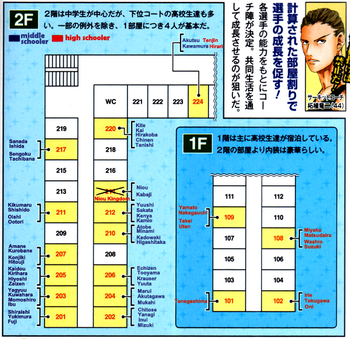 The U-17 Training Camp is a boarding camp for participants, who stay in shared dorms based on the players' abilities and where they need coaching. The aim is for them to grow from having to live together.
Circuit coach Ryūji Tsuge appears to be the dorm supervisor.
1st Floor: High Schoolers
Edit
The only high school room shown to be a single room so far. Also note that is used by a 1st Stringer.
Features the three strongest high school students first introduced at the start of the series, who seem to have a close relationship with each other.
All members of the 5th Court that participates in Doubles.
Also mostly members of the 5th court except for Migihashi. All were chosen to face the No. 11-20 of the returning 1st Stringers.
2nd Floor: Middle Schoolers
Edit
From the top three schools from Nationals. All three are one of the strongest players from their respective schools. They appear soft and kind outside of the courts, but become extremely scary once they get serious. They all also seem to share an interest in plants and gardening.
Data tennis users (Saiki Kanpatsu no Kiwami can be compared to the highest level of data tennis).
Players that have been shown to play both Singles and Doubles effectively.
Serve and volley specialists.
2nd years all hinted (some confirmed) to be the future captains of their respective teams.
Underclassmen hinted to be future captains of their respective teams when they become 3rd years. The two Super Rookies, a very talented 1st year transfer student, and the hinted future captain of St.Rudolph.
Doubles specialists that play Doubles 2 from Rokkaku and Shitenhoji. Typically consisted of those who performs Manzai (boke and tsukkomi).
Three captains and one vice-captain with two balanced personalities. Two arrogant personalities and two plain ("Jimmies") personalities:
Doubles specialists that play Doubles 1 from Seigaku (Golden Pair) and Hyoutei (Silver Pair)
Players known for their speed except for Yushi who is Kenya's cousin.
Room 214 Niou KingdomEdit
Also known as Niou Kingdom, a play on Atobe Kingdom. Only two players in this room who can copy other players almost perfectly.
All-rounders and one Aggressive Baseliner. Sanada, Sengoku, and Tachibana are known as aces of their school (even though Sanada is not the strongest from Rikkaidai). Ishida is the powerhouse of Shitenhoji.
All Higa Chuu tennis team members
Close friends.
Although in the anime the dorms are very bland and dull with only one color scheme, in the ending song Party Time, the dorms are colored with funky colors to match the rhythm of the song.
Ad blocker interference detected!
Wikia is a free-to-use site that makes money from advertising. We have a modified experience for viewers using ad blockers

Wikia is not accessible if you've made further modifications. Remove the custom ad blocker rule(s) and the page will load as expected.