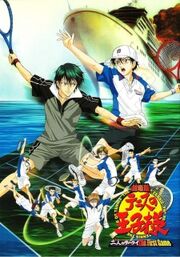 This original soundtrack was released as a collection of songs from the movie:
The Prince of Tennis - The Two Samurai: The First Game
. It contains 31 songs.
Song List
Edit
Mada Mada Daze Chibisuke
Futari no Samurai The First Game
Minna de Tanoshindekoi
Oishi.Kaidoh vs Inui.Kawamura
Ryoma.Momoshiro vs Fuji.Kikumaru
Echizen Ryoga da
Jikoshoukai
Atobe no Heya
Imitation
Sorezore no Omoi
Ryoga no Chouhatsu
Chuukoku
Exhibition Match
Yudan Sezu ni Ikou
Nya~o
Dekkee Yume ka...
Sakurafubuki no Omowaku
Fuji vs Schweiz
Dasshutsu Seikou
Warui Kedo Katasete Morau yo
Kyouryuu Zetsumetsu
Tada Jasumasan Kara na
Bet Time
Ryoma vs Ryoga
Yana Kanji
Iize Chibisuke
Orange no Ki
Chouetsu
Ano Touji
Yuuge
Seishun Glory
Ad blocker interference detected!
Wikia is a free-to-use site that makes money from advertising. We have a modified experience for viewers using ad blockers

Wikia is not accessible if you've made further modifications. Remove the custom ad blocker rule(s) and the page will load as expected.