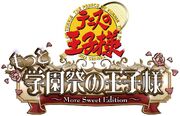 The Prince of The School Festival
(学園祭の王子様 Gakuensai no Oujisama) is a dating game made for the Prince of Tennis franchise.
Description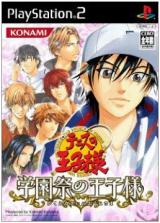 In this game, you are Hirose Shizuka (default name) who is a second year student in the school you pick (Seigaku, Fudoumine, St. Rudolph, Yamabuki, Hyoutei, Rokkaku or Rikkai). Keep in mind that you can only get the guys from the same school, no inter-school love.
So in some twisted moment, our beloved Atobe Keigo, the captain of Hyoutei tennis team decides to open a gakuensai (school festival) which involved some schools' tennis team. He is also backed by their coach, Sakaki Tarou.
Shizuka is chosen as the Uneiin (manager) for her school team (whatever you pick) and she'll be helping them in the preparation and others as well as stealing their hearts.
The boys will also join an attraction (drama, band, etc), though you're barely involved in it. They're fun to watch.
The gameplay is basically stalking the boy you wanted to end up, talk to them (you need to pick the right topic/answer unless you want them like you less), and help them in their assigned job. You will sometimes have a tennis involved mini-game since the boys will practice tennis a bit during the preparation.[1]
The Prince of The School Festival ~More Sweet Edition~
After they aired the Nationals for the Prince of Tennis anime adaption, Konami released a new game called The Prince of The School Festival ~More Sweet Edition~. The plot of the game stays the same as the original one, but they add the Shitenhouji regulars as routes you can choose. Also instead of it being a Playstation 2 game, they changed it to a Nintendo DS version of the game.
Routes
Seigaku
Echizen Ryoma
Tezuka Kunimitsu
Fuji Syuusuke
Oishi Syuichirou
Kikumaru Eiji
Kawamura Takashi
Inui Sadaharu
Momoshiro Takeshi
Kaidou Kaoru
Fudoumine
Tachibana Kippei
Kamio Akira
Ibu Shinji
St. Rudolph
Mizuki Hajime
Fuji Yuuta
Akazawa Yoshirou
Yamabuki
Sengoku Kiyosumi
Akutsu Jin
Dan Taichi
Hyoutei
Atobe Keigo
Oshitari Yuushi
Mukahi Gakuto
Shishido Ryou
Ootori Choutarou
Hiyoshi Wakashi
Akutagawa Jirou
Rokkaku
Saeki Kojirou
Amane Hikaru
Kurobane Harukaze
Rikkai
Sanada Genichirou
Kirihara Akaya
Yanagi Renji
Yagyuu Hiroshi
Marui Bunta
Niou Masaharu
Yukimura Seiichi
Trivia
Yukimura is a secret character which will be obtainable after you clear the routes for all Rikkai boys.
Gallery
References