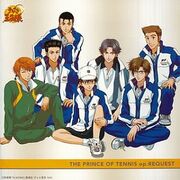 This is a limited edition version of Prince of Tennis Opening Theme songs.
Release date: 9th Novemver 2011
Price: 2,800 yen (tax inclusive)
Catalog Number: NECA-30094
Distributor: King Records
Make You Free - Kimeru
Driving Myself - HIRO-X
Flower Power - Hisoca
Song for You 〜愛すべき人へ〜 (Aisubeki Hito he) - Kimeru
Future - HIRO-X
Long Way - Ikuo
Make You Free - Hisoca
Anniversary - HIRO-x
Brand New Day - Ikuo
しあわせの歌 (Shiawase no Uya) - HIRO-X
Make You Free 〜STYLE 004〜 - Kimeru
Never End 〜C−Long Version〜 - Ryoma Echizen (Minagawa Junko)
Ad blocker interference detected!
Wikia is a free-to-use site that makes money from advertising. We have a modified experience for viewers using ad blockers

Wikia is not accessible if you've made further modifications. Remove the custom ad blocker rule(s) and the page will load as expected.