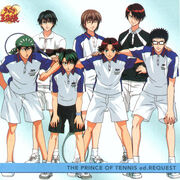 This is a limited version of Prince of Tennis Ending Theme songs.
Release date: 9th November 2011
Price: 2,800 yen (tax inclusive)
Catalog Number: NECA-30095
Distributor: King Records
Keep Your Style - Masataka Fujishige
Kaze no Tabibito (風の旅人) - Fureai
おめっとサンバ (Ometto Sanba) - Cap to Bin
Chain of Mind - Kimeru
Happy×2☆Day!! - Aozu
Walk On - Masataka Fujishige
君の歌 (Kimi no Uta - Fureai)
Keep on Dreaming - Cap to Bin
You got game? - Kimeru
Bonus Tracks
Edit
おめっとサンバ 〜SAMBA MAX〜 (Ometto Sanba ~Samba Max~) - Cap to Bin
シャッターチャンスは一度だけ! 〜ピンポイントスマッシュVersion〜 (Shutter Chance ha Ichi do Dake! -Pin Point Sumasshu Version - Yuki Kaida)
Ad blocker interference detected!
Wikia is a free-to-use site that makes money from advertising. We have a modified experience for viewers using ad blockers

Wikia is not accessible if you've made further modifications. Remove the custom ad blocker rule(s) and the page will load as expected.