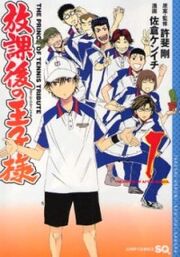 The Prince of After School Manga Volume 1 is the first volume for the Prince of After School Manga.
Chapter 001: No! I Said No! For the Last Time I Said No! *CHOP*
Chapter 002
Chapter 002.2: Special 2
Chapter 003: Seigaku's Pillar
Chapter 004: Sequel - It Would Be Good if It Were Like That
Chapter 005
Chapter 006
Chapter 007: Secret Research
Chapter 008
Chapter 009: Tanabata
Chapter 010
Chapter 011: Eh!?
Chapter 012: An Indication
Chapter 013
Chapter 014: XX Boy
Chapter 015
Chapter 016
Ad blocker interference detected!
Wikia is a free-to-use site that makes money from advertising. We have a modified experience for viewers using ad blockers

Wikia is not accessible if you've made further modifications. Remove the custom ad blocker rule(s) and the page will load as expected.