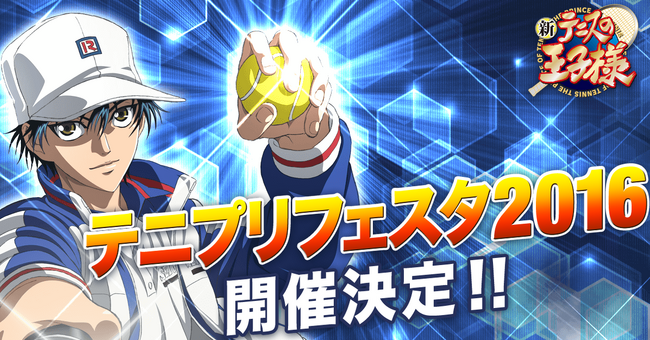 The Prince of Tennis Festival 2016 is a festival in honor of the New Prince of Tennis anime, and manga.
Information
Edit
There will be three festivals. The first one will be held on October 15 2016. The second and third festival will be held on October 16 2016, one in the late morning and one in the evening.
The first show is called "Show", the second is called "Tick", and the third is called "Vai". Inui, Hirakoba, and Byodoin will be absent during Show; Gin, Ootori, Tanegashima, and Mitsuya will only attend Show. Ryoga will only attend Tick. Ochi and Mouri will only attend Vai.
Regular tickets are ¥7,800 (tax included). Tickets with luxury benefits are ¥13,500 (tax included).
The following are the current confirmed cast:
Rikkaidai
Edit
Shitenhoji
Edit
Special Guest
Edit
External Link
Edit
Ad blocker interference detected!
Wikia is a free-to-use site that makes money from advertising. We have a modified experience for viewers using ad blockers

Wikia is not accessible if you've made further modifications. Remove the custom ad blocker rule(s) and the page will load as expected.