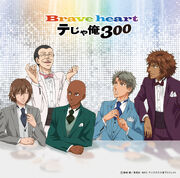 Tejya Ore 300 is the 300th Tenipuri CD. It consists of Atobe Keigo, Shiraishi Kuranosuke, Kaidoh Kaoru, Kikumaru Eiji , Fuji Syuusuke, Kuwahara Jackal, Kai Yuujirou, Ootori Choutaro, Konjiki Koharu, Kirihara Akaya, Konomi Takeshi.
Brave Heart
Edit
Fantastic Bazar
Tenniversary
Fantastic Bazar (Original Karaoke)
Brave Heart (Original Karaoke)
Tenniversary (Original Karaoke)
Ad blocker interference detected!
Wikia is a free-to-use site that makes money from advertising. We have a modified experience for viewers using ad blockers

Wikia is not accessible if you've made further modifications. Remove the custom ad blocker rule(s) and the page will load as expected.