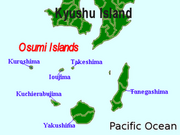 Tanegashima (種子島) is one of the Ōsumi Islands belonging to Kagoshima Prefecture, Japan. The island, 444.99 km² in area, is the second largest of the Ōsumi Islands, and has a population of 33,000 persons. Access to the island is by ferry, or by air to New Tanegashima Airport.
Administratively, the island is divided into the city, Nishinoomote, and the two towns, Nakatane and Minamitane. The towns belong to Kumage District.
In Prince of Tennis
Edit
The No.2 Japanese High schooler is named Shūji Tanegashima. The two Kanji characters, 種 and 島 are the same for the character.
Ad blocker interference detected!
Wikia is a free-to-use site that makes money from advertising. We have a modified experience for viewers using ad blockers

Wikia is not accessible if you've made further modifications. Remove the custom ad blocker rule(s) and the page will load as expected.