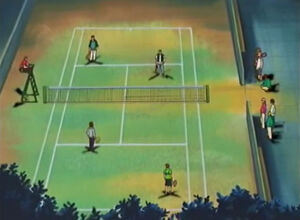 Street Tennis Courts
Edit
Public courts located usually in parks, these street tennis courts were seen frequently in the Prince of Tennis anime as recreational and practice spots for some regulars from many different schools.
Located above in a park accessed by a staircase of steps, the street tennis courts are used for doubles. It was first seen in the original anime's episode 11 when Ryoma and Momoshiro go there before their first team match against Gyokurin. By episode 102, the court's size has expanded greatly from it's original one court.
ParticipantsEdit
Ad blocker interference detected!
Wikia is a free-to-use site that makes money from advertising. We have a modified experience for viewers using ad blockers

Wikia is not accessible if you've made further modifications. Remove the custom ad blocker rule(s) and the page will load as expected.