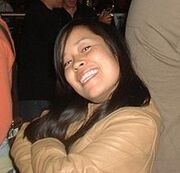 Stephanie Ru-Phan Sheh (born April 10, 1977 in Kalamazoo, Michigan) is a Chinese-American actress, voice actress, ADR director, ADR script writer, casting director, dialogue engineer, sound engineer, and producer who has works for Attack of the Show!, Bang Zoom! Entertainment, Bandai Entertainment, Cartoon Network, Geneon Entertainment, Media Blasters, Nickelodeon, Nicktoons, NYAV Post, Sony Pictures Entertainment, Sony Pictures Classics, FUNimation Entertainment, Urban Vision, and Viz Media.
Prince of Tennis
Edit
Stephanie voiced Nanako Meino, Ryoma's cousin, in the English dub of Prince of Tennis. Other voices include Tomoka Osakada, An Tachibana, and Yumiko Fuji.
Personal Information
Edit
Other names: Jennifer Sekiguchi, Stephanie Shane, Stephanie Shea, Tiffany Hsieh, Lulu Chiang, Laura Chyu, Becky Chiang, Saki Shin, Michelle T. Hseih, Rebecca Kim
Height: 4' 9" (1.45 m)
The reason she has so many credits of herself is because in the beginning of her voice acting career, she had an "identity crisis". She was afraid of being obsessed into trying to be a celebrity and thinking that she should work on being an actor, rather than having fans and being popular.
Ad blocker interference detected!
Wikia is a free-to-use site that makes money from advertising. We have a modified experience for viewers using ad blockers

Wikia is not accessible if you've made further modifications. Remove the custom ad blocker rule(s) and the page will load as expected.