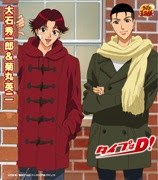 Song for Us is a solo song by Shuichiro Oishi in the duet maxi-single Type Wa D!

いつの間にか季節は流れて
冬の支度がそろそろはじまり
なくさぬように静かな想いを
大切に暖めてる

眠れぬ夜には側にいるから
いつまでも話をしていよう
一人じゃないから淋しさも少しは
分け合って乗り越えて行こう

かけがえないみんなを想って
日々を過ごしては夜空を見上げてる
出会いや別れを繰り返し
僕らは今ここにいるのだろう

消えない気持ちが心の中に
あるのならそのままでいい
辛い日々がいつか幸せになるように
ゆっくりと歩いて行こう

すべて伝えられたら楽になるのに
切なさは言葉を消してしまう
愛しいみんなへ想いが届くように
流れゆく星に願うよ
そして今、歌を捧げよう
Itsu no ma ni ka kisetsu wa nagarete
Fuyu shitaku ga sorosoro hajimari
Nakusanu you ni shizuka na omoi wo
Taisetsu ni atatameru

Nemurenu yoru ni wa soba ni iru kara
Itsumademo hanashi wo shiteiyou
Hitori ja nai kara sabishisa mo sukoshi wa
Wakeatte nori koete yukou

Kakegaenai minna wo omotte
Hibi wo sugoshite wa yozora wo miageteru
Deai ya wakare wo kurikaeshi
Bokura wa ima koko ni iru no darou

Kienai kimochi ga kokoro no naka ni
Aru no nara sono mama de ii
Tsurai hibi ga itsuka shiwase ni naru you ni
Yukkuri to aruite yukou

Subete tsutaeraretara raku ni naru no ni
Setsunasa wa kotoba wo keshite shimau
Itoshii minna e omoi ga todoku you ni
Nagareyuku hoshi ni negau yo
Soshite ima, uta wo sasageyou
Unnoticed, the seasons flow away
Winter preparations gradually begin
Hoping I don't cry, these quiet feelings
Are carefully warming up

Because you're here beside me during the sleepless nights
Forever, let's have our conversations
Because I'm not alone, I can share this little loneliness
And then, let's simply climb over it

Thinking about the irreplaceable everyone
Day after day passes, and I raise my eyes to admire the night sky
The encounter, and the farewell simply repeats itself
Now, together we're here in this place, aren't we?

It's okay if these non-disappearing feelings
Stay as they are inside my heart
I hope someday, these painful days will turn into happiness
And slowly, I can continue to walk forward

If I tell you all of this, although I'll become comforted
It's painful to completely erase the words
To my beloved everyone, I hope you reach for these thoughts
Wish on the current stars
And, now, let's dedicate this song...
Ad blocker interference detected!
Wikia is a free-to-use site that makes money from advertising. We have a modified experience for viewers using ad blockers

Wikia is not accessible if you've made further modifications. Remove the custom ad blocker rule(s) and the page will load as expected.