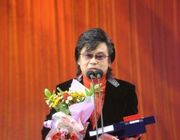 Si Ho Hong is a South Korean voice actor. Hong has dubbed numerous KBS and SBS productions, and is a member of the Korea Broadcasting Voice Acting Division (한국방송_성우극회) since 1986.
Prince of Tennis
Edit
Si Ho voices the protagonist of Prince of Tennis, Ryoma Echizen, in the South Korean dub.
Personal Information
Edit
Given name: 시호
Family name: 홍
Birthday: Nov 2, 1959
Ad blocker interference detected!
Wikia is a free-to-use site that makes money from advertising. We have a modified experience for viewers using ad blockers

Wikia is not accessible if you've made further modifications. Remove the custom ad blocker rule(s) and the page will load as expected.