Shīta Urayama
Kanji

浦山しい太

Rōmaji

Urayama Shīta

Characteristics

Gender

Male

Age

13

Birthday

July 3

Education

Junior High

Rikkaidai (1st Year)

Club Position

Member

Tennis

Dominant Arm

Right

Media

Manga Debut

Genius 373

Anime Debut

New Prince of Tennis Episode 1

Voice Actor

Takase Asaki
Background
Urayama is a 1st year at Rikkai Daigaku Fuzoku
Appearance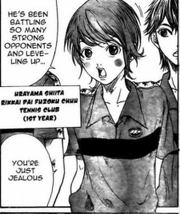 He has light red hair that is shaped like the top of an ice cream on top of his head. He also has pink blush on both of his cheeks and is the first character in the series to do so.
Personality
History
Districts
Just before the Districts took place, It is shown in SonoPuri that a short time before the tournament, Rikkai Dai and Kakinoki had a friendly training match in which the best of the Rikkai Dai 2nd and 1st years went up against a full strength Kakinoki in order to strengthen the younger players of Rikkai Dai. Kakinoki's captain, Kuki, is intially meant to play against Kirihara Akaya, however due to Kirihara at this time paying an unplanned visit to Seigaku, Rikkai regulars Niou Masaharu and Yagyuu Hiroshi conspire and dress Urayama as Kirihara instead. Kuki defeats Urayama 6-1, but he receives compliments from Rikkai's regulars for his efforts in taking a game from the older and more experienced player.
Nationals
Shiita is shown in the original series to be a Rikkaidai student cheering on his senpais.
U-17 Camp
Urayama appears in New Prince of Tennis at the gates of the U-17 Camp entrance and bumps into Yamabuki 1st Year Dan Taichi and Seigaku 1st year Horio Satoshi. The latter two arrived at the entrance to give items to Akutsu Jin and Echizen Ryoma respectively. The three of them decide to sneak into the camp. While inside, they get to witness the serious tie-break elimination matches between the invited Middle Schoolers.
After the tie-break elimination in the manga the three of them are never seen again while in the anime they end up as roommates in their own room at the camp.
Tennis Record
Playing Style and Techniques
Trivia
Character Trivia
He calls Ryoma "Etsuzen".
Interests: soft-served ice-cream competition.
Favorite Food: soft-served ice-cream (chocolate flavoured, coffee flavoured and chestnut flavored).
He always says "de yansu" at the end of his sentences.
Other Trivia
He is the only named 1st Year in the series from Rikkai Daigaku Fuzoku.
His hairs looks like an ice-cream sundae.
His birthday is on "Soft-Served Ice-cream Day" (Ice-cream Day).
References