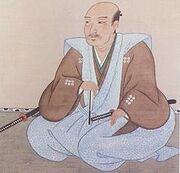 Sanada Yukimura (真田 幸村, 1567 – June 3, 1615), actual name: Sanada Nobushige (真田 信繁), was a Japanese samurai warrior of the Sengoku period. He was especially known as the leading general on the defending side of the Siege of Osaka.
Yukimura was called "A Hero who may appear once in a hundred years", "Crimson Demon of War" and "The Last Sengoku Hero". The famed veteran of the invasion of Korea, Shimazu Tadatsune, called him the "Number one warrior in Japan" (日本一の兵).
In Prince of Tennis
Edit
Ad blocker interference detected!
Wikia is a free-to-use site that makes money from advertising. We have a modified experience for viewers using ad blockers

Wikia is not accessible if you've made further modifications. Remove the custom ad blocker rule(s) and the page will load as expected.