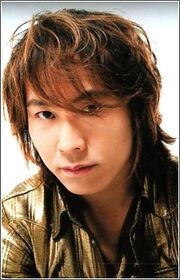 Ryōtarō Okiayu (置鮎 龍太郎 Okiayu Ryōtarō, November 17, 1969) is a Japanese voice actor, who was born in Kitakyushu, Fukuoka Prefecture, and raised in Osaka. He has been active since 1989, and is currently affiliated with Aoni Production.
Prince of Tennis
Edit
Ryōtarō Okiayu voices the captain of Seigaku's tennis team, Kunimitsu Tezuka, and minor characters Ichiuma Kita and Doumoto.
Personal Information
Edit
Given name: 龍太郎
Family name: 置鮎
Hometown: Kitakyushu, Fukuoka, Japan
Blood type: O
Favorites: video games, bright colors
Food: bananas, curry
Skill/ability: Kansai-ben
He was once married to voice actress Naomi Nagasawa, and has a daughter with her. Currently he is married with the voice actress Ai Maeda.
Ad blocker interference detected!
Wikia is a free-to-use site that makes money from advertising. We have a modified experience for viewers using ad blockers

Wikia is not accessible if you've made further modifications. Remove the custom ad blocker rule(s) and the page will load as expected.