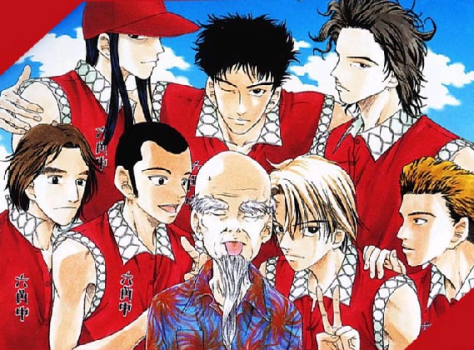 Rokkaku Junior High (市立六角中学校 Rokkaku Chūgakkō) is a team based in the Chiba Prefecture, which focuses on training local children in tennis from an early age. They have a large playground next to the school's tennis court which is often used to train. They make the Kantō Tournament semi-finals, where they lose to Seigaku. They advance to the National Tournament, but they are upset by a dark horse team, Higa.
Information
Year Founded: Showa Year 24 (1950)
Headmaster: Tanuma Daigo
History
Known as the "Veteran of Chiba", Rokkaku has qualified for the Kantō Tournament for 35 consecutive years, the last two of which they made it to the Final 4. The team's regular line-up consists of players who learned the sport when they were kids and have been using wooden rackets tailored by their advisor ever since. Rokkaku has a competitive, yet friendly relationship with Seishun Gakuen. Members of the two teams have frequently confronted each other on the tennis courts, both officially and unofficially (including the Newcomer Tournament). This year, after the Kantō Tournament, the two schools held a joint training camp at Rokkaku's dormitory. Unfortunately, the training seemed to have done Rokkaku little good, being routed in the first round of the Nationals by dark horse Higa. Because of Seigaku's generous support of their team during what transpired to be their last match of the year, Rokkaku decided to repay the debt by cheering for them against the massive Hyōtei Gakuen squad.
Tennis Team Members
Coach
3rd Years
2nd Years
1st Years
Poll
Who is your favorite Rokkaku member?