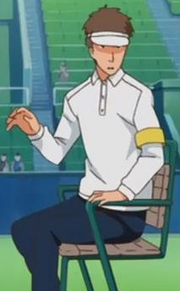 The referee (審判) that presides over tennis matches. He has been in all the matches and he keeps scores of all the matches. He has the ability to be in more than one place at the same time. He was doing his job at the Junior High School tennis tournaments. He has shown the ability to see shots that other characters identified as invisible while still being able to accurately call the shot. Ability to see very fast shots without acting surprised.
Ad blocker interference detected!
Wikia is a free-to-use site that makes money from advertising. We have a modified experience for viewers using ad blockers

Wikia is not accessible if you've made further modifications. Remove the custom ad blocker rule(s) and the page will load as expected.