Prince of Tennis Wiki
Welcome to the Prince of Tennis Wiki
Welcome

Anonymous User

! This is a collaborative place for everything relating to The Prince of Tennis universe! There are currently 3,507 articles, and we have made more than 51,253 edits!
---
Talk of the Town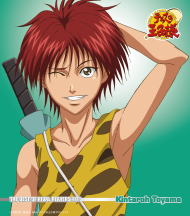 While Echizen Ryoma commanded the headlines at the Kantō Tournament by conquering the Emperor Sanada Genichirō, Tōyama was creating his own waves at the Kansai Tournament, annihilating the region's best players.
Heading to Tokyo for the Nationals, he got off the train in Shizuoka, mistaken that Fujisan was located in Tokyo. Tōyama probably doesn't receive high marks in his academics. Kanji is not his strong point either, mispronouncing Echizen's name Koshimae. During his detour through Shizuoka and Hakone, Tōyama met a traveling buddy, Horio Junpei, a 21-year-old with two years of bicycling experience.
(Read More...)
See previous Featured Articles here
Which Japanese first stringer would make the best Home Economics teacher?
Which Japanese middle schooler would make the best art teacher?
For previous polls, see Poll Archive.

Affiliations

If you would like to become an affiliate of the Prince of Tennis Wiki, contact Kellychocolate here or Chinkycandie here.
Random Prince of Tennis Manga Volume Cover
Random New Prince of Tennis Manga Volume Cover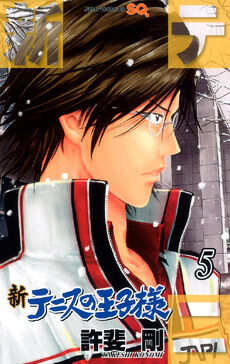 Did you know?
Two Prince of Tennis seiyus formed a duo called DAT, Takayuki Kondo (Oishi) and Daisuke Ono (Tokugawa).
News
(20 July 2017) Three new albums!!
Three new albums will be released on the 6th of September 2017. They are another set of 1/800 songs from the Tenipuri Festa 2016. The tracklist has already been decided.
Source: Tennipri Feelmee.

(21 July 2017) Two new albums!!
Both Atobe and Tezuka are releasing a new album each. They are birthday albums, released on the characters birthday for 2017.
Source: Tennipri Feelmee.
See previous News Articles here
Ad blocker interference detected!
Wikia is a free-to-use site that makes money from advertising. We have a modified experience for viewers using ad blockers

Wikia is not accessible if you've made further modifications. Remove the custom ad blocker rule(s) and the page will load as expected.