Prince of Tennis Wiki
Welcome to the Prince of Tennis Wiki
Welcome

Anonymous User

! This is a collaborative place for everything relating to The Prince of Tennis universe! There are currently 2,669 articles, and we have made more than 46,997 edits!
---
Talk of the Town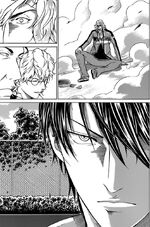 The match between Tokugawa and Byodoin is a unique tennis event that it takes place as both a current event and a flashback event. The flashback event takes place in Golden Age 116: Abuse while the current event beings in Golden Age 115: Reminiscence and concludes in Golden Age 125: Samurai.
(Read More...)
See previous Featured Articles here
Which top 16 country team do you want to see in action?
Which bottom 16 country team do you want to see in action?
For previous polls, see Poll Archive.

Affiliates

If you would like to become an affiliate of the Prince of Tennis Wiki, contact Kellychocolate here.
Random Manga Volume Cover
Did you know?
Marui is the shortest but oldest Regular in the Rikkaidai Tennis Club.
Prince of Tennis News
(2 May 2016) First 2016 Tenipuri Cast Announcement!!
It has been confirmed that the voice actors of Ryoma, Tezuka, Yukimura, Atobe, Kite, Kintaro, and Byodoin are the first confirmed cast to make an appearance at the 2016 Tenipuri Festa.
Source: Tenipuri Festa 2016
(2 May 2016) Inui's new single!
For the first time in 11 years and 11 months, Inui is releasing a new single. It is titled Invisible Bandage and will be released on the 1st of June.
Source: Tennipuri Feel Me
See previous News Articles here
Blog Posts
Create blog post
Latest Posts
If anyone wants to watch the New Prince of Tennis vs. Genious 10 full episodes or Houkago no Oujisa…

Read more >

New information has been released for the New Prince of Tennis OVA series being released on August …

Read more >

what the name of ost when akutsu talk to kevin "why do you know who i am?" at episode 144

Read more >
See more >
Music