Home
Talk

27
1,976pages on
this wiki
Prince of Tennis Wiki
Welcome to the Prince of Tennis Wiki
Welcome

Anonymous User

! This is a collaborative place for everything relating to The Prince of Tennis universe! There are currently 1,976 articles, and we have made more than 41,321 edits!
---
Talk of the Town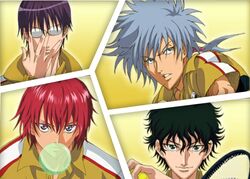 Rikkai Young Kan (立海ヤング漢) is a soundtrack group composed of the voice actors of Kirihara Akaya, Niou Masaharu, Marui Bunta, and Yagyu Hiroshi.
The four members are all from Rikkaidai and are considered the "youngsters," though not all of them are youngest in age (Marui is the oldest from Rikkai but the shortest).
(Read more...)
See previous Featured Articles here
Which 1st Stringer would you want to be your Japanese teacher?
Which 1st Stringer would you want to be your tennis instructor?
For previous polls, see Poll Archive.

Affiliates

If you would like to become an affiliate of the Prince of Tennis Wiki, contact Kellychocolate here.
Random Manga Volume Cover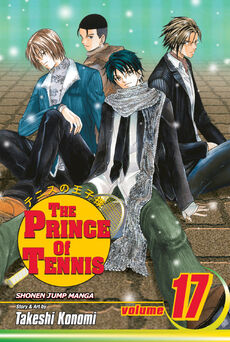 Did you know?
Inui's first love lasted 4.2 seconds.
Prince of Tennis News
(March 25 2015) Three new singles!! Three untitled singles with unknown artists will be released in June. The first unknown single will be released on the 6th while the other two will be released on the 10th.
(April 2 2015) Singles update! The three new singles released in June now have a singer each but the titles remains unknown. The single being released on the 6th will be sung by Jirō Akutagawa. The other two singles will be sung by the Fuji brothers, respectively.
Blog Posts
Create blog post
Latest Posts
If anyone wants to watch the New Prince of Tennis vs. Genious 10 full episodes or Houkago no Oujisa…

Read more >

New information has been released for the New Prince of Tennis OVA series being released on August …

Read more >

I'm so excited to the new episodes of the " The New Prince of Tennis ". Hopefully it will release t…

Read more >
See more >
Music