Prince of Tennis Wiki
Welcome to the Prince of Tennis Wiki
Welcome

Anonymous User

! This is a collaborative place for everything relating to The Prince of Tennis universe! There are currently 2,027 articles, and we have made more than 41,738 edits!
---
Talk of the Town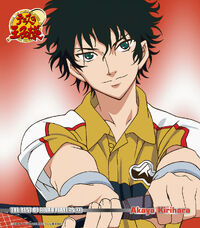 Akaya Kirihara (Japanese: 切原赤也, Kirihara Akaya) is the youngest and only second year student in the Rikkai Dai line-up, thus earning him the title "Second Year Ace" (sometimes known as "Junior Ace").
He joined Rikkai because he heard the school had a very strong tennis team and wanted to be Japan's number one, but his hopes were quickly crushed by Rikkai's Three Monsters (Yukimura, Sanada, and Renji).
(Read more...)
See previous Featured Articles here
Which high schooler would look good in sunglasses?
Which Middle Schooler would look good in sunglasses?
For previous polls, see Poll Archive.

Affiliates

If you would like to become an affiliate of the Prince of Tennis Wiki, contact Kellychocolate here.
Random Manga Volume Cover
Did you know?
Tezuka is so intelligent, he corrects teachers.
Prince of Tennis News
(May 2 2015) Two new singles!! Konomi-sensei is releasing a new single! Its been titled Thank You for Supporting the Tenipuri. Its scheduled to be released on the 26th of June.
Rikkaidai 1st year Shita Urayama is releasing his first single as well. It remains untitled but its sceduled to be released on the 3rd of July.
Blog Posts
Create blog post
Latest Posts
If anyone wants to watch the New Prince of Tennis vs. Genious 10 full episodes or Houkago no Oujisa…

Read more >

New information has been released for the New Prince of Tennis OVA series being released on August …

Read more >

I'm so excited to the new episodes of the " The New Prince of Tennis ". Hopefully it will release t…

Read more >
See more >
Music