Home
Talk

27
1,846pages on
this wiki
Prince of Tennis Wiki
Welcome to the Prince of Tennis Wiki
Welcome

Anonymous User

! This is a collaborative place for everything relating to The Prince of Tennis universe! There are currently 1,846 articles, and we have made more than 38,605 edits!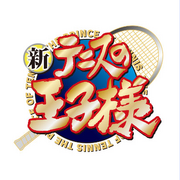 ---
Talk of the Town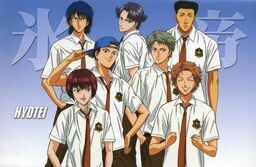 Hyotei Academy (氷帝学園) is a private school located in the Tokyo prefecture. It's tennis team, Hyōtei Academy Secondary Department (氷帝学園中等部 Hyōtei Gakuen Chūtō Bu) applies a strict stratification and merit system, which prioritizes ability only rather than emotion. If any regular loses a match, they are removed from their spot and only given a second chance in very rare conditions. The Hyōtei Tennis Club has over two hundred members. The team itself consists of eight regulars led by Atobe Keigo. (Read more...)
Latest Chapter
Golden Age Chapter 135:

Which High Schooler would look good in a suit?
Which Middle School Captain would look good in a suit?
For previous polls, see Poll Archive.

Affiliates

If you would like to become an affiliate of the Prince of Tennis Wiki, contact Kellychocolate here.
Random Manga Volume Cover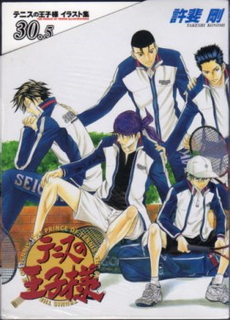 Did you know?
Yagyu gets good grades in every subject.
Prince of Tennis News
(December 3, 2014) New Valentine Kiss Cover! Everyones favourite tennis buchou, Tezuka Kunimitsu, is finally releasing his version of Valentine Kiss!! It is set to be released on January 28, 2015. This leaves Yukimura Seiichi as the only captain of the top 5 middle schools who has not released his version yet.

Source: Tenipuri Feel Me (Japanese)
(December 4, 2014) The New Prince of Tennis Campaign is here! After much debate, The Prince of Tennis franchise has finally agreed to let the convinience store franchise, Lawson, sponsor the anime. Sponsoring the anime will include Lawson brands and logos on official art, merchandise, etc. Lawson has sponsored many other animes and this may be another one.
Source: Tenipuri News (Japanese)

(December 5, 2014) J-World Tokyo is celebrating Ryoma's Birthday! J-World Tokyo, one of the amusement parks that hosts tenipuri events, is celebrating Ryoma's Birthday this December by selling Ryoma themed birthday cakes. Fans are buying these at ¥648 a cake.
Source: Tenipuri News (Japanese)

Blog Posts
Create blog post
Latest Posts
If anyone wants to watch the New Prince of Tennis vs. Genious 10 full episodes or Houkago no Oujisa…

Read more >

New information has been released for the New Prince of Tennis OVA series being released on August …

Read more >

I'm so excited to the new episodes of the " The New Prince of Tennis ". Hopefully it will release t…

Read more >
See more >
Music