Prince of Tennis Wiki
Welcome to the Prince of Tennis Wiki
Welcome

Anonymous User

! This is a collaborative place for everything relating to The Prince of Tennis universe! There are currently 2,711 articles, and we have made more than 47,814 edits!
---
Talk of the Town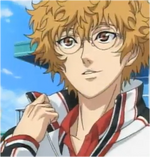 Kanata Irie (入江 奏多, Kanata Irie) is introduced as a 3rd year High School Student. He was originaly the leader of the 3rd Court. The rest of the camp acknowledge him to be amongst the strongest in the camp despite not being in the 1st Court or a 1st Stringer as it is revealed it is his own choice to stay in a lower court, similar to how Oni Juujiro is much stronger than the court he stays in.
(Read More...)
See previous Featured Articles here
Which Japanese first stringer would make a good employer?
Which Japanese first stringer would make a good country leader?
For previous polls, see Poll Archive.

Affiliates

If you would like to become an affiliate of the Prince of Tennis Wiki, contact Kellychocolate here or Chinkycandie here.
Random Manga Volume Cover
Did you know?
Niou and Yanagi like the same type of girl, a girl full of strategies.
Prince of Tennis News
(2 August 2016) Double Release from MEGANE☆SEVEN!!
MEGANE☆SEVEN will have a double release on the 1st of October. Both singles are currently untitled.
Source: Tenipuri News

(29 July 2016) Shishido's new album!!
Shishido Ryo is releasing a new album! Currently untitled but its scheduled for release on the 28th of September. It is his first album in 10 years and 7 months and his second album overall.
Source: Tennipri Feelmee
See previous News Articles here
Blog Posts
Create blog post
Latest Posts
If anyone wants to watch the New Prince of Tennis vs. Genious 10 full episodes or Houkago no Oujisa…

Read more >

New information has been released for the New Prince of Tennis OVA series being released on August …

Read more >

what the name of ost when akutsu talk to kevin "why do you know who i am?" at episode 144

Read more >
See more >
Music