Prince of Tennis Wiki
Welcome to the Prince of Tennis Wiki
Welcome

Anonymous User

! This is a collaborative place for everything relating to The Prince of Tennis universe! There are currently 2,132 articles, and we have made more than 45,072 edits!
---
Talk of the Town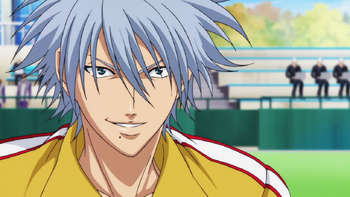 Masaharu Niō (仁王 雅治, Niou Masaharu) is a third year from Rikkaidai Fuzoku. Even within the strongest corps, Niō is rumored to be "the most troublesome guy". Reading ten to twenty moves in advance, his forte is a style of play where he deceives his opponent, but that skill takes great artistry, as many others can attest. He can copy anyone's tennis style, but he is limited by his own physical abilities. This creates the illusion that his opponent is facing a copy of themselves. His parents have a house in Shikoku mentioned in the AnoPuri's.
(Read More...)
See previous Featured Articles here
Whose family member would you like to meet?
What other countries are you happy to see at the U-17 World Cup?
For previous polls, see Poll Archive.

Affiliates

If you would like to become an affiliate of the Prince of Tennis Wiki, contact Kellychocolate here.
Random Manga Volume Cover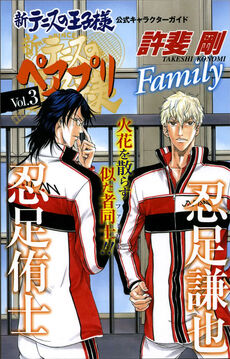 Did you know?
Sanada cried in the bathroom after he defeated Tezuka in the Nationals.
Prince of Tennis News
(3 November 2015) Hiyoshi Wakashi's album update!!
The future Hyotei Captain, Hiyoshi Wakashi is debuting his first ever album! It has been titled as Gekokujō.

Yukimura Seiichi is finally releasing his version of Valentine Kiss. It is scheduled to be released on the 27th of January 2016.
Source: [tennipri.feelmee.jp/index.php/news/views/551 Tennipuri Feelme] See previous News Articles here
Blog Posts
Create blog post
Latest Posts
If anyone wants to watch the New Prince of Tennis vs. Genious 10 full episodes or Houkago no Oujisa…

Read more >

New information has been released for the New Prince of Tennis OVA series being released on August …

Read more >

what the name of ost when akutsu talk to kevin "why do you know who i am?" at episode 144

Read more >
See more >
Music