Prince of Tennis Wiki
Welcome to the Prince of Tennis Wiki
Welcome

Anonymous User

! This is a collaborative place for everything relating to The Prince of Tennis universe! There are currently 2,107 articles, and we have made more than 44,399 edits!
---
Talk of the Town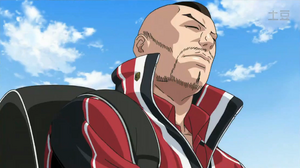 Duke Watanabe is introduced to the storyline in New Prince of Tennis as the No.3 representative of the All-Japan Juniors. He was originally from France but after witnessing Byodoin save his younger sister's life, he joined the Japanese team and has been there since.
(Read more...)
See previous Featured Articles here
Which High School Representative would look good in a suit?
Which Middle School Representative would look good in a suit?
For previous polls, see Poll Archive.

Affiliates

If you would like to become an affiliate of the Prince of Tennis Wiki, contact Kellychocolate here.
Random Manga Volume Cover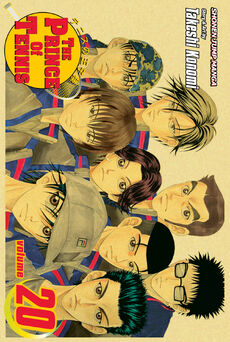 Did you know?
Tenipuri was ranked 6th from the best 31 animations! Click here to see the results.
Prince of Tennis News
(17 August 2015) Music Update
The two new singles have been titled. Niou's single has been titled to "ネジとドライバー (Neji to Doraibā, Screw and Driver)". Tezuka's birthday single has been titled as "Decide". Oshitari Yushi's album is titled "YOU SEE?".
Source: Tenipuri Feelmee Music
See previous News Articles here
Blog Posts
Create blog post
Latest Posts
If anyone wants to watch the New Prince of Tennis vs. Genious 10 full episodes or Houkago no Oujisa…

Read more >

New information has been released for the New Prince of Tennis OVA series being released on August …

Read more >

I'm so excited to the new episodes of the " The New Prince of Tennis ". Hopefully it will release t…

Read more >
See more >
Music