Home
Talk

24
1,411pages on
this wiki
1,411 articles on this Wiki. Unmarked spoilers abound.
Welcome to the Prince of Tennis Wiki
Were you can find out everything about the anime, manga, and sequel.
---
Talk of the Town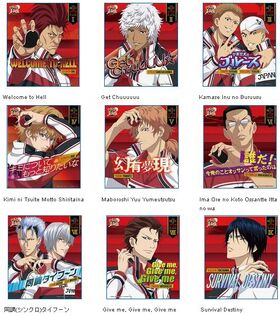 Best of U-17 Players are singles by High School participants of the U-17 players. There are 9 singles. Like the Best of Rival Players and Best of Seigaku Players, the Best of U-17 Players has the original track, a remix version, an original karaoke, and a voice message by the voice actors.
Latest Chapter
Golden Age Chapter 114:

What is your favourite Best of U-17 Players Single?
Who has good vocals from the Best of U-17 Players?
For previous polls, see Poll Archive.
Random Manga Volume Cover
Did you know?
The prince of tennis OVA's have been aired on Japan's Disney channel.
Prince of Tennis News
(November 15, 2013) New Prince of Tennis FAN DISC! ~ Be a rival or friend ~ It is said to be another fan disc, similar to Message in a Bottle for the New Prince of Tennis. It will be released on Christmas this year. The price of this is ¥3150.
Source: Tenipuri Japan (Japanese)
(November 15, 2013) Marui Bunta's new album name released! Yet Tenipuri still keeps us entertained with its various singles by their characters. This time it's Marui Bunta from Rikkai. His new album Bun Bun A La Carte will be released on December 6th this year, but there is even more to it! This album will also be accompanied by a DVD! The price of the CD is ¥3500, while the DVD is ¥3000. Seems like this will be expensive!
Source: Tenipuri Japan (Japanese)
(November 5, 2013) Jump Festa 2014! Almost every year, tenipuri hosts a Jump Festa.This year it will be held on December 21st and 22nd of 2013. The venue is the Makuhari Messe Bandai Visual booth. The first 300 people to arrive will get the NPOT Fan Disc for free! Special appearances of voice actors include Masuda Yuuki, Tsuda Eisuke, Minagawa Junko, Okiayu Ryutaro, Suwabe Junichi, and Hidenobu Kiuchi. The festival will be held on November 10th.
Source: Tenipuri Japan (Japanese)
Blog Posts
Create blog post
Latest Posts
Just putting out that the POT wiki is on a december spotlight for the month of December. We might g…

Read more >

Does anyone know if this is true or not? http://www.animenewsnetwork.co.uk/news/2013-09-21/prince-o…

Read more >

Konomi Takeshi-sensei now have an account in Twitter!!! https://twitter.com/konomi_takeshi

Read more >
See more >
Affiliates

If you would like to become an affiliate of the
Prince of Tennis Wiki, contact Kellychocolate here.