Tenipuri Festival 2013
Talk

0
1,749pages on
this wiki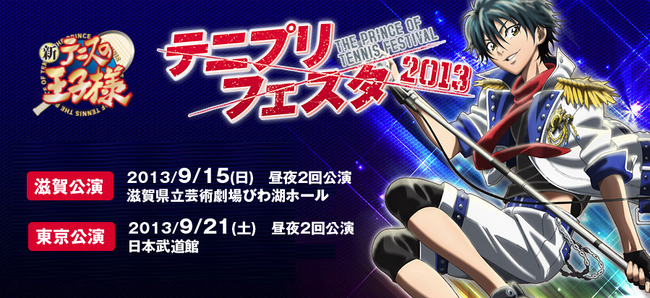 The Prince of Tennis Festival 2013 is a festival in honor of the New Prince of Tennis anime, and manga.
Information
Edit
There will be two festivals. The first one will be held on September 15, 2013 at the Shiga and Shiga Prefectural Art Theater Biwako Hall. It will start at 11:00 and end at 16:30 (5:30 PM). The second festival is held on September 21, 2013 in Kitanomarukoen, Chiyoda-ku, Tokyo. The performance begins at 12:00 and goes all the way until 17:30 (6:30 PM).
Admission
Edit
To attend you have to register at http://ePlus.jp/festa2013/. After registering, you will go through a lottery system. If you get picked in the lottery, you can buy a ticket (which costs 6,800 yen) and then attend.
It is noted on the Prince of Tennis Festival 2013 site that whoever is the seventh winner of the lottery will get the first award, The New Prince of Tennis  and its specials on DVD and Blu-ray.
Nippon Budokan Festival Night Show
Edit
The event started off with the performance of the song Tenipuri Fever with the five main schools Seigaku, Higa, Hyotei Academy, Rikkai and Shitenhōji together with Konomi Takeshi. They were shortly joined by the voice actors of some high school members of the U-17 Camp in a small talk corner. The high school members then proceed to perform each of their character songs. The songs were performed in the order: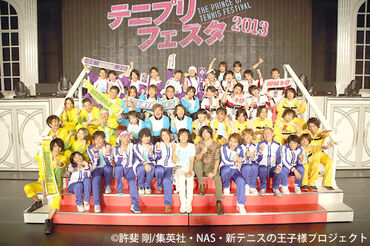 The following character's voice actors will be included in the attraction:
Shitenhoji
Edit
U-17 Highschoolers
Edit
The Festival will also have one special guest, Norimasa Fujisawa
External Links
Edit
Backstage
Edit
School Songs
Edit
The character's festival outfits have a striking similarity to that of Uta no Prince Sama's.