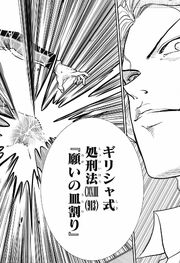 Knee Splitter of Prayer is Greek Execution Method CMXIII (913). It appears to cause Tohno's knee cap to shatter. It was first used in Golden Age 189: Execution Family.
Cultural References
Used frequently during the Spanish Inquisition, the knee splitter, naturally, was used to split a victims knee. The device was built from two spiked wood blocks with a screw at the back, and was clamped on the front and back of the knee. One turn of the screw and, hey presto, a knee was easily, and painfully, crippled. It was also used on other parts of the body.
Users
Ad blocker interference detected!
Wikia is a free-to-use site that makes money from advertising. We have a modified experience for viewers using ad blockers

Wikia is not accessible if you've made further modifications. Remove the custom ad blocker rule(s) and the page will load as expected.