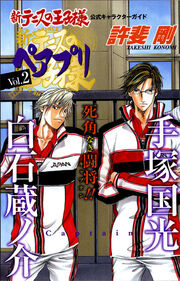 Pairpuri Volume 2
is the second pairpuri volume for the New Prince of Tennis franchise. This volume is called
Tezuka x Shiraishi CAPTAINS
.
Private no Oujisama" Jitaku 3 Freeloader in Shiraishi Household
Edit
Private no Oujisama" Jitaku 4 An Outing with the Tezuka Household
Edit
Houkago no Oujisama" Pairpuri version
Edit
Hanipuri Theater Seigaku
Edit

Hanipuri Theater Shitenhouji
Edit

Interview
Edit
PairPuri Cross Talk
Edit
Okiayu Ryoutarou x Hosoya Yoshimasa
Konomi Takeshi Long Interview
Konomi Takeshi's Secret Talk on Tezuka and Shiraishi
Special 1
Edit
PairPuri Profiling
Edit
Profile
History
Play Style
School Life
Tezuka x Shirashi Captain Talk
Tezuka and Shiraishi's look into dominant hands
Tezuka and Shiraishi's look into the position of captain
Words for the two.One line comments from characters who have interacted with Tezuka or Shiraishi!
Special 2
Edit
Gekkan Pro Tennis Special Edition YOUNG SMASH!!
Side Tennis. Let's hear about those volleyers!!
Side Private. Gathering characters who've changed their image!!
High School Player & Coach Guide
Training Camp Design Guide
The Players' Secrets!? Witness Talk [here by naily_n]
Right now, those players are...!?
Tenipuri Messiah Fortune Telling divining side / 50...results side
Bunta's lecture on how to make sweets
Connecting to Tenipuri fans in the reader corner
Ad blocker interference detected!
Wikia is a free-to-use site that makes money from advertising. We have a modified experience for viewers using ad blockers

Wikia is not accessible if you've made further modifications. Remove the custom ad blocker rule(s) and the page will load as expected.