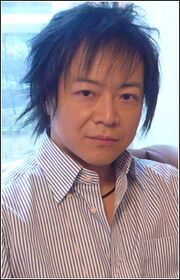 Nozomu Sasaki (佐々木 望 Sasaki Nozomu, born January 25, 1967) is a Japanese voice actor. He is a client of the voice actor management firm, 81 Produce. He was previously a client for Arts Vision.
Prince of Tennis
Edit
Nozomu voiced the violent Jin Akutsu, from Yamabuki Middle School.
Personal Information
Edit
Given name: 望
Family name: 佐々木
Hometown: Hiroshima, Japan
Company: 81 Produce
Height: 160cm
Weight: 47kg
Blood type: O
Hobbies: Reading books
Ad blocker interference detected!
Wikia is a free-to-use site that makes money from advertising. We have a modified experience for viewers using ad blockers

Wikia is not accessible if you've made further modifications. Remove the custom ad blocker rule(s) and the page will load as expected.