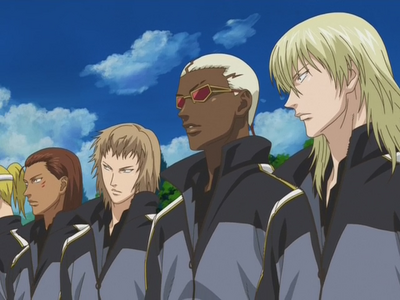 According to Tachibana Kippei in New Prince of Tennis, Nagoya Seitoku is a prestigious school in Japan.
A less than stellar showing at the Toukai Tournament kept Nagoya Seitoku under the radar at the nationals, where they quietly made a deep run to the semifinals. In the semifinals, the team's entire lineup was replaced by a more formidable group of exchange students, who jumped out to a quick 2-0 lead over Rikkaidai . It was later revealed that Rikkai deliberately lost the first two sets to push Akaya Kirihara's growth.
Tournament History National
Edit
2008
Ad blocker interference detected!
Wikia is a free-to-use site that makes money from advertising. We have a modified experience for viewers using ad blockers

Wikia is not accessible if you've made further modifications. Remove the custom ad blocker rule(s) and the page will load as expected.