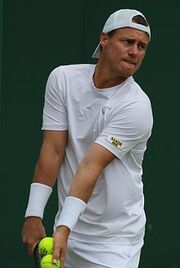 Lleyton Glynn Hewitt is an Australian former world no. 1 professional tennis player.
In November 2001 Hewitt became the youngest male ever to be ranked no. 1 in the world in singles at the age of 20 years, 8 months and 26 days. He won the 2001 US Open and 2002 Wimbledon men's singles titles, the 2000 US Open men's doubles title, back-to-back Tennis Masters Cup titles in 2001 and 2002, and the Davis Cup with Australia in 1999 and 2003. Hewitt reached the final of the 2004 US Open, where he was defeated by Roger Federer in straight sets. Between 1997 and 2016, he contested twenty consecutive Australian Open men's singles tournaments, reaching the 2005 final where he was defeated by Marat Safin in four sets.
In Prince of Tennis
Edit
Ad blocker interference detected!
Wikia is a free-to-use site that makes money from advertising. We have a modified experience for viewers using ad blockers

Wikia is not accessible if you've made further modifications. Remove the custom ad blocker rule(s) and the page will load as expected.