Koharu Konjiki
Talk

0
759pages on
this wiki
Koharu Konjiki

Name

Koharu Konjiki

Kanji

金色小春

Romanji

Konjiki Koharu

Nicknames

Naniwa's Baka Couple (together with Hitōji)

School

Class

3-8 #9

Birthday

November 9

Notable
Relatives

Unnamed (Parents)
Unnamed (Older Sister)

Style

Right-Handed

Voiced by

Ryō Naitō (Japanese)
Background
Edit
Koharu Konjiki (金色小春, Konjiki Koharu) is said to have more data than Seigaku's Inui Sadaharu, and with an IQ of 200, this genius stores all of the information inside his head. Konjiki and his doubles partner Hitōji Yūji are known as Naniwa's Baka Couple. Supposedly, when they first teamed up, their Advisor Osamu Watanabe ordered them to never separate. Since then, they have never been apart from each other outside of matches. As a result, they are very in-sync and can read each others moves and thoughts. The Naniwa's Baka Couple are experts at drawing their opponents into their pace.
Personality
Edit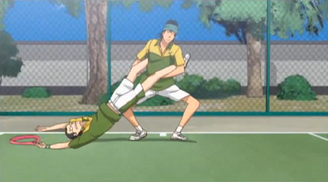 Konjiki in particular likes to throw opponents off with his comedy acts. For example using Funny wigs or saying random things or flirting with his opponent. Konjiki and Hitouji together enjoy nothing more than making spectators and opponents laugh and use several unconvential and unusal methods for just returns not to mention weird styles of play and strange formations.
Appearance
Edit
Facially, Konjiki appears to resemble an old man, despite being just a middle schooler.
One Year Prior To The StorylineEdit
Shown in the Another Story OVA, Konjiki along with Shitenhoji teammates Shiraishi Kuranosuke, Hitouji Yuuji, Oshitari Kenya, Ishida Gin and Koishikawa Kenjiro prepare for the Nationals with Shiraishi as their new captain as it is revealed in the databook that Hara suddenly quit the club during the Spring of that year which is just after the Regionals. They realize that they are short on members and the school council's law state that if a club does not get new 1st years at least every year then the club must become defunct. To avoid this terrible outcome, they then find the only 1st year who had yet to join a school club. That 1st year just turned out to be Zaizen Hikaru. They attempt to recruit Zaizen by making him laugh, as to which he finds none of their jokes funny and doesnt find anyone in the school funny despite the school motto which was The one who laughs first wins. Eventually, Shiraishi is able to recruit Zaizen and the club is able to participate in the Nationals.
It is known that Shitenhoji powered their way to the Semi-Finals but were defeated in straight sets by eventual Rikkai Dai in the Nationals Semi-Finals that year.
NationalsEdit
As the Kansai Regional Tournament winners, Shitenhōji received a bye in the First round, advancing directly to the second round. In the Second round, because it was their first official match-up, they were required to play all 5 matches. They easily defeat Okakura as 5-0, as shown in the databooks, advancing to the quaterfinals.
Konjiki is first seen with his Shitenhoji teammates during Kite Eishiro and Tezuka Kunimitsu's encounter in the 2nd Round of the Nationals.
Konjiki, slotted for Doubles 1, did not have to play in the Shitenhōji versus Fudomine quarter-finals as Shitenhouji won the encounter 3-0. Konjiki and the rest of the Shitenhouji tennis club were part of the audience to the Nationals Final between Seigaku and Rikkai Dai and is shown accepting his 3rd place medal along with his teammates.
Prior To U-17 CampEdit
As shown during an Another Story OVA, Shitenhoji invite Seigaku for a joint training session at their school.
U-17 CampEdit
Konjiki arrives at the U-17 Camp shortly after the Nationals with his Shitenhoji teammates minus Hitouji and Zaizen. Konjiki along with all of the other middle schoolers manages to retrieve one of the balls that fall from a helicopter above several 2nd Stringers, with the rule being that those without a ball must go home.
Konjiki pairs with Ishida Gin for a Doubles match however the announcer suddenly declares all pairs are to have a tie-break game where the loser must go home. Konjiki attempts to flirt with Ishida Gin early during the game however Ishida Gin accepts none of it and hits a Hadoukyu straight into Konjiki sending him flying. Somehow, Konjiki manages to land right on top of Hitouji who just so happened to be searching for Konjiki in the camp.
This results in Konjiki being taken to the mountains with the other middle school losers to train and meets the Drunken Coach . Konjiki along with the losers return back to the U-17 Camp much stronger than before to the extent that they even replace the 2nd Court. Konjiki and all of the middle schoolers are involved in a massive pillowfight. Konjiki is present with all of other members of the camp at the main courts for the arrival of the Top 10, and then the arrival of the middle schoolers that replaced No.11-19.
Playing Styles and Techniques
Edit
Konjiki is a naturally gifted Data Tennis user. His data even exceeds that of Inui's. During Doubles, Konjiki and Hitouji use a comedic style of play which involves making spectators and opponents laugh and distracting them while slowly taking points easily and dominating the flow of the game without their opponent realizing giving them easy wins.
Data Tennis When it comes to Data Tennis, Konjiki is naturally gifted. Konjiki has an IQ of 200. Which means he is a natural born genius in all aspects. Allowing him to memorize all kinds of things.
Tennis Record
Edit
| | | | | | | |
| --- | --- | --- | --- | --- | --- | --- |
| Tournament | Round | School | Position | Partner | Opponent(s) | Score |
| 2007 Nationals | Semifinals | Rikkai Dai | Doubles 2 | Koharu Konjiki | Unknown | Loss (6-4) |
Koharu is played by Nishiyama Takeya and by Iizumi Manabu in the Musicals.