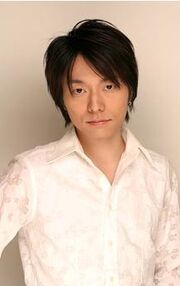 Kenji Nojima (野島 健児 Nojima Kenji, born March 16, 1976 in Tokyo) is a Japanese voice actor. He is employed by the voice talent agency Aoni Production.
Prince of Tennis
Edit
It has been confirmed that he will be voicing Juzaburō Mōri in the New Prince of Tennis OVA.
Personal Information
Edit
He is the son of Akio Nojima and is the younger brother of Hirofumi Nojima, who is also a voice actor.
He is married to Chie Sawaguchi since 2004 and they have two children together.
Blood Type: A
Ad blocker interference detected!
Wikia is a free-to-use site that makes money from advertising. We have a modified experience for viewers using ad blockers

Wikia is not accessible if you've made further modifications. Remove the custom ad blocker rule(s) and the page will load as expected.