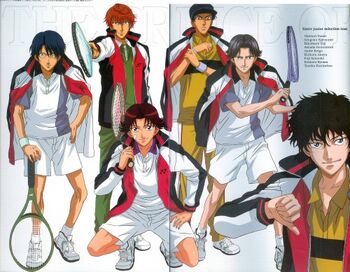 Only appearing in the anime, the Kanto Junior Selection Camp was formed to pick the members of the Japanese Junior Team (Kanto region only), representatives from each Kanto school were chosen to train at this camp, where at the end, eight representatives are chosen to play at the Goodwill Games against the American Team (West Coast). It should not be confused with the (National) Junior Selection Camp that occured one year prior to the storyline, often referenced by participants.
The camp is a large facility with a running track and multiple tennis courts in the back. On the inside there are two-man rooms for the participants, as well as a large dining hall where they eat and four rooms for meetings, one for each of the three groups and one for the coaches to meet.
Participants
Edit
The following are those who participated in this camp:
Coaches:
From Seigaku
From Fudomine
From St.Rudolph
From Yamabuki
From Hyotei
From Josei Shonan
From Rokkaku
Volunteers:
The following are part of the final team for the America West Coast Region VS Japan Kanto region in the Goodwill Tournament:
Doubles 2 - Atobe Keigo and Sanada Genichiro
Doubles 1 - Kikumaru Eiji and Oshitari Yushi
Singles 3 - Sengoku Kiyosumi
Singles 2 - Fuji Shusuke
Singles 1 - Kirihara Akaya
Substitute - Echizen Ryoma
Ad blocker interference detected!
Wikia is a free-to-use site that makes money from advertising. We have a modified experience for viewers using ad blockers

Wikia is not accessible if you've made further modifications. Remove the custom ad blocker rule(s) and the page will load as expected.