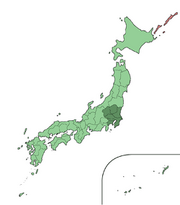 The Kantō Region is a geographical area of Honshu, the largest island of Japan. The region includes the Greater Tokyo Area and encompasses seven prefectures: Gunma, Tochigi, Ibaraki, Saitama, Tokyo, Chiba, and Kanagawa. Sometimes it may include the Yamanashi prefecture.
In Prince of Tennis
Edit
19 schools hail from this region:
Ad blocker interference detected!
Wikia is a free-to-use site that makes money from advertising. We have a modified experience for viewers using ad blockers

Wikia is not accessible if you've made further modifications. Remove the custom ad blocker rule(s) and the page will load as expected.