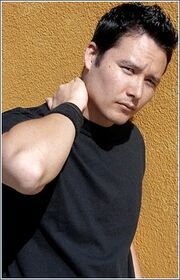 Johnny Yong Bosch (born January 6, 1976) is an American actor, voice actor, martial artist, and musician of Korean descent who is best known for portraying Adam Park in Mighty Morphin Power Rangers and the English voices of Ichigo Kurosaki in the anime series Bleach, Itsuki Koizumi in The Melancholy of Haruhi Suzumiya, Vash the Stampede in Trigun and Lelouch Lamperouge in Code Geass: Lelouch of the Rebellion, a two-time American Anime Award nominee, and is also a lead singer in the band Eyeshine.
Prince of Tennis
Edit
Johnny voiced Seigaku's prodigy, Shusuke Fuji, in episodes 31-50.
Personal Information
Edit
Birth name: John Jay Bosch
Wife: Amy Bosch
Bosch had been cast as the English voice of five characters for voice actor Jun Fukuyama:

Viscount Albert d'Morcerf in Gankutsuou: The Count of Monte Cristo
Lelouch Lamperouge in Code Geass: Lelouch of the Rebellion
Juto in MagnaCarta II
Yukio Okumura in Blue Exorcist
Haruto Sakaki in Witch Hunter Robin
Ad blocker interference detected!
Wikia is a free-to-use site that makes money from advertising. We have a modified experience for viewers using ad blockers

Wikia is not accessible if you've made further modifications. Remove the custom ad blocker rule(s) and the page will load as expected.