Jürgen Borisovich Volk
Kanji

ユルゲン ボリソビッチ ボルク

Rōmaji

Yurugen Borisobitchi Boruku

Nicknames

Philosopher of Victory

Characteristics

Gender

Male

Age

17

Family

Bertie Borisovich Volk (younger brother)

Education

High School

3rd Year

Foreign U-17 Camp

German U-17
Captain

Profession

Occupation

Professional Tennis Player

Tennis

Dominant Arm

Right-Handed

Doubles Partner(s)

Media

Manga Debut

Golden Age 135
"
Don't play the match so absent-mindedly! Concentrate!
"

— Volk to Tezuka

Jürgen Borisovich Volk is a professional tennis player and captain from Germany's U-17.
Background
Volk makes his first appearance in chapter 135 of the manga. He is the captain of Germany U-17 team. He is mentioned to be at least 17. Since Germany has won the previous 9 years of the World Cup, it is likely he participated in it for either one or two years.
Ever since he has turned pro, he has yet to lose a match.
Appearance
Volk has pale skin and is bald. He is quite tall.
Personality
He seems to take the personality of a coach. He seems to know what is the best for others. Such as he was coaching Tezuka's positions and playstyle. At the end of the match, he tells Tezuka to work on his stamina.
When Siegmund Pupke wants to sponsor Tezuka, Volk suggests otherwise, saying Tezuka has little experience with other professional players. With such little experience, he will more or less lose. He tells Tezuka to improve himself and wait until Germany wins the World Cup for the 10th time in a row.
Like Tezuka, he's taciturn, disciplined, and strict. He points out flaws in posture and character even in the middle of matches. Though he clearly holds a lot of pride in his team, he is modest, calm, and never assumes his victory is assured, despite the fact that he has not lost any of his matches since going pro. He is also able to use the Whirlpool Baptism, a shot with a powerful vortex spin that makes it nearly impossible to return. Volk rarely uses this move though, as he believes reliance on such techniques makes for a weaker tennis player.
History
Germany U-17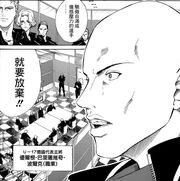 Volk is first seen jogging with Tezuka on the streets. While Tezuka is exhausted, Volk drinks some water. He later appears at the German U-17 meeting and hears news of the other countries' teams.
Later on, Tezuka and Volk have a practice match. The match is observed by Siegmund Pupke, CEO of Siegmund Pharmaceuticals. After the match Pupke wants to give Tezuka a professional tennis player contract, but Volk says Tezuka lacks experience against top players and wouldn't be able to compete on the professional circuit yet. Volk recommends Pupke to wait until Tezuka has gotten experience in the WC as part of the German team.
Prior to the U-17 World Cup
Each country is gathering in Australia for the World Cup. Before the official unveiling of the World Cup, Each country will team up 3 teams of a high schooler and middle school in doubles in a "Pre World Cup". To determine their opponents there is a lottery/raffle event held and Byoudouin and Oishi participate. Tezuka and Volk are there participating as well.
Oishi picks Germany as their opponent.
Pre-World Cup
The crowd loudly cheers for Germany as Volk leaves the bench and steps onto the court to participate in the third and final match of this Pre-WC. Someone comments that Japan must've really pissed off the reigning champions. One of the French reps thinks that this is over and tells Camus they should head back. Camus still seems reluctant to leave though. Yanagi explains that Volk has been undefeated since turning pro the previous year and that he is known as the "Philosopher of Victory." It seems like he had more to say, but Kirihara cuts him off since everyone already knows Volk anyway.
Byoudouin seems to be about to rise from his seat, but Tokugawa grabs his racket, asking for permission to play in this final match. Byoudouin accepts. As the middle schoolers are about to discuss who to send from their ranks, Atobe leaves the venue. Irie and Sanada try to stop him, but it's no use. Atobe says he found something he's lacking.
After this, none of the other middle schoolers seems to be willing to participate in the match until Yukimura asks if anyone would mind if he played.
The final match is about to start - Volk/Frankensteiner vs Tokugawa/Yukimura. Volk's first serve goes right past Tokugawa, leaving him unable to react. He wonders if this is the difference between a pro and an amateur. In order to still catch the ball he then opens a Black Hole behind him. The ball gets caught and Tokugawa hits it back, but Frankensteiner is aiming for a smash. At first it seems like he has scored, but Volk yells at him to keep watching the ball carefully and Yukimura indeed returned it in reality.
Team Japan wins the first game. Volk scolds Frankensteiner for not concentrating. Frankensteiner manages to find the loop hole in Black Hole and manages to dodge it.
Germany wins the next 5 games. Yukiura snaps out of yips and unlocks Howling with Tokugawa. With Sixth Sense, Yukimura/Tokugawa win 2 more games.
Volk finally reveals a serve, Wirbel Taufe. Both Tokugawa and Yukimura cannot return it so Volk wins the final game for Germany, winning the final exhibiton match for Germany.
Playing Styles & Techniques
While none of his techniques are known, he is highly skilled since he is a professional tennis player. He managed to defeat Tezuka while Tezuka activated Teni Muhō no Kiwami (Pinnacle of Perfection) in a practice match. He is also noted to have high stamina. While out jogging with Tezuka, Tezuka got exhausted and Volk simply stood there watching him and drank water.
He is quite analytical. By losing one game to Japan, he managed to realise how Black Hole and Yukimura's Yips worked. He went on to explain this to his doubles partner, A. Frankensteiner, and they won 4 games in a row.
Tennis Record
| | | | | | |
| --- | --- | --- | --- | --- | --- |
| Tournament | Round | Position | Partner | Opponent(s) | Score |
| Practice Match | N/A | Singles | None | Tezuka Kunimitsu | Won (likely 6-0) |
| U-17 World Cup Exhibition Match | N/A | Doubles 3 | A. Frankensteiner | Tokugawa Kazuya/Yukimura Seiichi | Won (6-3) |
Relationships
Tezuka Kunimitsu
Volk and Tezuka share a teacher (coach)/student relationship. Volk seems to know what is best for Tezuka at the moment. Since he knows Tezuka has what it takes to become a professional tennis player, he advises him to gain more experience with other professional players before becoming one as well. He allows Tezuka to become a German Representative to help him gain experience at a global scale.
Quotes
Your attacks are too bland! You need to consistently outthink your opponent!!
You get too despondent when your attacks fail!! Being able to get over it is also a skill!!
He has absolutely no experience playing against top class players. If he were to become a pro now, he'd be run-ragged. Let's have this discussion when Kunimitsu has reached the next level. After we've won the U-17 World Cup as the representatives of Germany.
Trivia
Jürgen is the name of a real-life Austrian tennis player.
Volk means "a people" in German.
His name was previously translated as Valicevic, however, it was officially confirmed as Borisovich on December 22nd, 2015. Ultimately, it is still unclear which version is correct, though, since his name was abbreviated with a V. in the chapter releases.
His name, written in Chinese is 优尔根·巴里萨维奇·波尔克, which roughly translates to "Excellent Jurgen Barry Savage Polk".
Jurgen is Dutch for George.
Gallery
Ad blocker interference detected!
Wikia is a free-to-use site that makes money from advertising. We have a modified experience for viewers using ad blockers

Wikia is not accessible if you've made further modifications. Remove the custom ad blocker rule(s) and the page will load as expected.