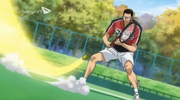 The ball goes downwards but suddenly curves upwards towards the opponents face without hitting the ground. It is shown in New Prince of Tennis that Krauser also uses his Hopping Ball to not only hit his opponent, but to also create the cross which he embeds his opponent in.
Variations
Edit
Ad blocker interference detected!
Wikia is a free-to-use site that makes money from advertising. We have a modified experience for viewers using ad blockers

Wikia is not accessible if you've made further modifications. Remove the custom ad blocker rule(s) and the page will load as expected.