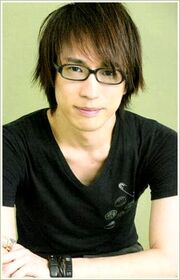 Hiroki Yasumoto (安元 洋貴 Yasumoto Hiroki, born March 16, 1977) is a Japanese voice actor.
Prince of Tennis
Edit
It has been confirmed that Hiroki will be voicing the No. 1 All Japan Representative, Hōō Byōdōin.
Personal Information
Edit
Also Known as: (左高 蹴)
Blood type: B
Hometown: Yamaguchi, Japan
Height: 179 cm
Weight: 68 kg
He tends to voice minor characters whenever, Daisuke Ono (voices Tokugawa), voices a main character. This is the first time that he will be playing a large part with Daisuke.
He is often cast as characters with menacing voices or macho characters.
Ad blocker interference detected!
Wikia is a free-to-use site that makes money from advertising. We have a modified experience for viewers using ad blockers

Wikia is not accessible if you've made further modifications. Remove the custom ad blocker rule(s) and the page will load as expected.