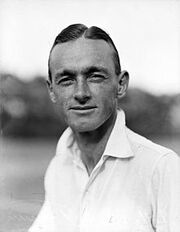 Henry Christian "Harry" Hopman CBE (12 August 1906 – 27 December 1985) was a world-acclaimed Australian tennis player and coach.
Hopman was born in Glebe, Sydney, New South Wales, before his family moved to Parramatta, a city adjoining Sydney and now effectively a suburb of the metropolis.
The Hopman Cup is named in his honour. His widow, Lucy Hopman, travels to Perth, Western Australia in January each year for the tournament.
In Prince of Tennis
Edit
Ad blocker interference detected!
Wikia is a free-to-use site that makes money from advertising. We have a modified experience for viewers using ad blockers

Wikia is not accessible if you've made further modifications. Remove the custom ad blocker rule(s) and the page will load as expected.