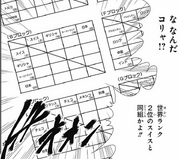 "
The 32 countries will be divided up into 8 round robin blocks of 4 teams each. For each qualifier…There will be 3 singles and 2 doubles matches, totalling to 7 people playing.
"

— Kurobe

The Group League is the first part of the U-17 World Cup. The 32 countries mentioned on the U-17 World Cup Ranking will be divided into blocks of 4. The top two from each block will advance to the finals. This means only 16 countries will make it to the next round. Not all known groups can be seen.
Group A: Germany (1), South Africa(15), Turkey (25), Tube Republic (32)
Group B: Switzerland (2), Greece (10), Australia (18), Japan (23)
Group C: France (3), Czech Republic (9), Mexico (24), Taiwan (31)
Group D: Spain (4), Canada (13), Netherlands (20), South Korean (29)
Group E: USA (5), Denmark (16)
Group F: Argentina (6), Russia (11), China (21), India (27)
Group G: England (7)
Group H: Belgium (8)
Ad blocker interference detected!
Wikia is a free-to-use site that makes money from advertising. We have a modified experience for viewers using ad blockers

Wikia is not accessible if you've made further modifications. Remove the custom ad blocker rule(s) and the page will load as expected.