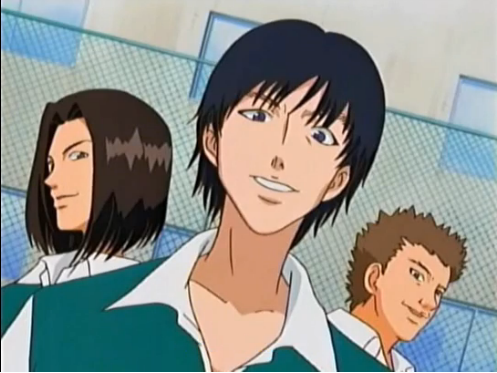 Despite their tournament record, Ginka Middle School is a weak school; Echizen Ryoma inadvertently defeats their entire team during their practice match. Their records were only good due to winning against weak schools. When they played against Seigaku, they forfeited due to being scared of their regulars. When it came time to play against Rikkai Daigaku Fuzoku during the Kanto Regional Tournament, they stole Sadaharu Inui's special juice, as they thought it was what made Seigaku strong, and mixed it with their own ingredients to create "The Three Flavors of Ginka". As a result, they ended up having to forfeit the match due to food poisoning.
Fukushi is definitely not the kindest person, intending to embarrass Ryuzaki Sakuno when her tennis ball was in his school court. He is also arrogant and cowardly, taking Ryoma too lightly and hiding from the rest of the Seigaku members. He thought of stealing the Inui juice to strengthen his team, which ended in food poisoning.
Doumoto is also as arrogant as Fukushi, using his reputation as a power serve to make him look more skilled than before.
Tennis Record
Edit
Prefectural Tournament
Edit
1st round BYE
Ginka 5-0 Komada Nishi
Ginka 3-0 Wada
Ginka 3-2 Todate Daiichi
Ginka defeated Houjou
| | | |
| --- | --- | --- |
| Tournament and Round | School | Results |
| 2008 Tokyo Prefectuals Semifinals | Seishun Academy | Lost (Retired) |
Kanto Regionals
Edit
| | | |
| --- | --- | --- |
| Tournament and Round | School | Results |
| 2008 Kanto Regionals Round 1 | Rikkai Daigaku Fuzoku | Lost (Forfeit due to food poisoning) |
Ad blocker interference detected!
Wikia is a free-to-use site that makes money from advertising. We have a modified experience for viewers using ad blockers

Wikia is not accessible if you've made further modifications. Remove the custom ad blocker rule(s) and the page will load as expected.