The first list of 20 1st Stringers that appears in the storyline made up the Foreign Expedition Group who were said to have been returning from their South Korean, General Asian, and European Campaigns are as follows:
1st StringersEdit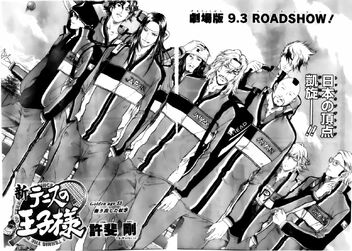 At this stage, these are the 1st Stringers that the readers first see. However it is revealed that Oni Jujiro was the actual No.5 and that Kaji was a temporary replacement.
No.s 11-19 get defeated by Middle Schoolers upon their return to the Japanese U-17 Selection Camp and are replaced as 1st Stringers by them. No.20 Akiba is defeated by Irie Kanata. Afterwards, No.s 9 and 10 Ochi and Mouri respectively, lose their positions to Middle Schoolers Atobe Keigo and Niou Masaharu respectively.
It is revealed that Kaji was not the original No.5 of the Genius 10. It is likely that he originally had a different number but it is unknown which number. He replaced Oni as the No.5 as Oni wanted to stay in the camp to strengthen the 2nd Stringers. When Oni was the Number 5, the Top 10 was known as the Genius 10.
Poll For Fans
Edit
Vote your favorite First Returning 1st Stringer
Ad blocker interference detected!
Wikia is a free-to-use site that makes money from advertising. We have a modified experience for viewers using ad blockers

Wikia is not accessible if you've made further modifications. Remove the custom ad blocker rule(s) and the page will load as expected.