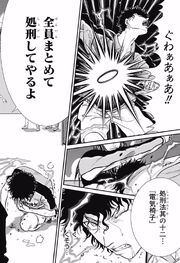 A violent shot that hits a nerve that makes the opponent feel an electric shock.
Cultural References
Edit
Execution by electrocution, usually performed using an electric chair, is an execution method originating in the United States in which the condemned person is strapped to a specially built wooden chair and electrocuted through electrodes placed on the head and leg. This execution method was created by employees of Thomas Edison during the War of Currents, and has been used only in the United States and, for a period of several decades, in the Philippines.
Historically, once the condemned person was attached to the chair, various cycles (differing in voltage and duration) of alternating current would be passed through the individual's body, in order to cause fatal damage to the internal organs (including the brain). The first more powerful jolt of electric current was designed to pass through the head and cause immediate unconsciousness and brain death. The second less powerful jolt was designed to cause fatal damage to the vital organs. Death may also be caused by electrical overstimulation of the heart.
Ad blocker interference detected!
Wikia is a free-to-use site that makes money from advertising. We have a modified experience for viewers using ad blockers

Wikia is not accessible if you've made further modifications. Remove the custom ad blocker rule(s) and the page will load as expected.