Driving Smash - Side King is a chibi sports game made for the Prince of Tennis franchise. It is based around Atobe Keigo.
Description
Edit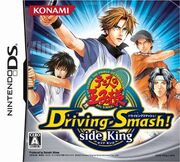 Genre:Sports
Release Date:12/19/2007
Publisher:Konami
Developer:Konami
ESRB:RP
You will be the manager of Hyotei Gakuen's Tennis Club and be charge of the training for the regulars. At the end of the given time period the regulars will play a match against the other rival schools.
Ad blocker interference detected!
Wikia is a free-to-use site that makes money from advertising. We have a modified experience for viewers using ad blockers

Wikia is not accessible if you've made further modifications. Remove the custom ad blocker rule(s) and the page will load as expected.