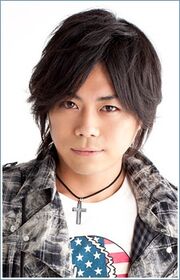 Daisuke Namikawa (浪川 大輔 Namikawa Daisuke, born March 29, 1976 in Tokyo) is a Japanese voice actor and singer.
Prince of Tennis
Edit
Daisuke voices the timid Hyotei Academy second year, Chōtarō Ōtori.
Personal Information
Edit
Given name: 大輔
Family name: 浪川
Hometown: Tokyo, Japan
Blood type: B
Hobbies: Handball
Skills & Abilities: Aikido
Other Famous Roles
Edit
Chris Yuu Takigawa in Ace of Diamond
Ulquiorra Cifer in Bleach
Asahia Iori in Brothers Conflict
Siegrain, Jellal Fernades, and Mystogan in Fairy Tail
Narukami Yu in Persona 4 - The Animation
Lucian/Goyo in Pokémon Diamond & Pearl
Kajiki Ryota in Yu-Gi-Oh! Duel Monsters
He started acting at age 8.
He is sometimes mistaken for fellow voice actor Daisuke Hirakawa, as their names only differ by one character when written in kanji.
Ad blocker interference detected!
Wikia is a free-to-use site that makes money from advertising. We have a modified experience for viewers using ad blockers

Wikia is not accessible if you've made further modifications. Remove the custom ad blocker rule(s) and the page will load as expected.