Chikao Matsudaira
Rōmaji

Matsudaira Chikao

Characteristics

Gender

Male

Age

16

Height

178 cm

Weight

67 kg

Birthday

March 26

Eyesight (Unaided)

1.5 (both eyes)

Blood Type

A

Family

Father
Mother
Older Sister
Matsudaira Chikahiko (Older Brother)
Younger Sister
Dog

Education

High School

(2nd Year)

Japan U-17 Camp

Court 11 (Former)
Mountain Training

Tennis

Dominant Arm

Left

Racquet(s)

Prince O^3 SPEEDPOR RED MIDPLUS+

Shoes

BRIDGESTONE TREAD GRIP LIGHT WEIGHT MS

Media

Manga Debut

Golden Age 1

Anime Debut

New Prince of Tennis Episode 1
Background
Edit
He is introduced as the strongest member of the 11th Court by Sasabe.
Appearance
Edit
Chikao wears a purple beret and the white U-17 Camp uniform and is as tall as most of the other high schoolers. He was unable to obtain a ball dropped by the helicopter upon the middle schoolers' arrival, which resulted in him being sent to the mountains with his U-17 Camp uniform taken away and replaced by a plain black T-shirt and white shorts.
Personality
Edit
Like most high schoolers he looks down on the middle schoolers. He is overly arrogant, thinking that his Magnum Serve is one of the strongest serve among the high schoolers when in fact it's actually a really simple serve (demostrated by Echizen Ryoma).
U-17 CampEdit
Upon the arrival of the middle schoolers, a helicopter drops several tennis balls onto the court. The head coach of the U-17 camp suddenly announces that anyone that fails to collect a ball will be kicked out of the camp. Since the majority of the middle schoolers have taken several balls, many of the high schoolers are left without a ball and have to leave the camp.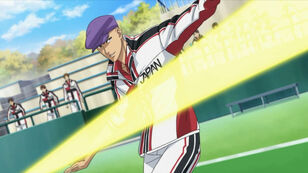 Nonetheless, some of the high schoolers are furious at this and demand the middle schoolers a tennis match with each of them where if they win, the middle schooler must hand them over a tennis ball.
He challenges Echizen Ryoma and is swiftly defeated, which results in him being sent to the mountains to train with all the other high schoolers and middle schoolers that lost. Before he faces Ryoma, he claims that he does not know how to hold back.
He is later seen with all of the other High School losers in the mountains when the Middle School losers declare that they will steal the drunken coach's sake.
Tennis Record
Edit
Playing Style and Techniques
Edit
The stance of the serve is irregular due to the non-dominant foot being stretched far back with the dominant foot firmly planted on the ground with its knee bent. However, after throwing the ball up into the air to serve it, the body jumps forward to hit the ball, resulting in a fast serve.
Personal Information
Edit
Thing he is bad with/Dislikes: His older sister, older brother, and younger sister.
Ad blocker interference detected!
Wikia is a free-to-use site that makes money from advertising. We have a modified experience for viewers using ad blockers

Wikia is not accessible if you've made further modifications. Remove the custom ad blocker rule(s) and the page will load as expected.