Card Hunter is a trading card game played oon Playstation 2 for the Prince of Tennis Franchise
Description
Edit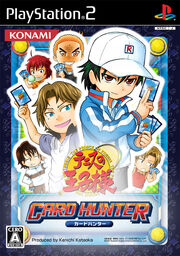 Prince of Tennis - Card Hunter is the first installment of digital card gaming of the Prince of Tennis anime and manga series. It is based on the real Prince of Tennis Trading Card Game created by Konami in Japan.
Tennis no Oujisama - Card Hunter is single-player only. It uses DVD media and it's memory block size is 319 Kb.
Ad blocker interference detected!
Wikia is a free-to-use site that makes money from advertising. We have a modified experience for viewers using ad blockers

Wikia is not accessible if you've made further modifications. Remove the custom ad blocker rule(s) and the page will load as expected.