Ryoma: "Ponta! Ponta! Ponta!"
This article discusses intricacies or terms found in the fandom, it may not be found in the Prince of Tennis canon.
This template is used for articles that is discusses fandom terms exclusively. Please do not add this if the article makes only a passing mention to the fandom.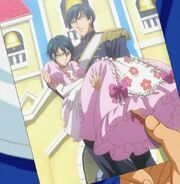 Cap Pair is the uncommon pair that fanfiction writers believe that Ryoma and Sanada are in a romantic relationship.
After the defeat of Rikkaidai at the hands of Seigaku at the Kanto Regionl Finals, Sanada bears no ill feeling towards Ryoma for defeating him.
During the finals of the nationals, where Ryoma lost his memories of tennis, Sanada went to help Ryoma regain his memories.
In Pairpuri 8: The Ocean Festival, Ryoma and Momoshiro were invited by Sanada to attend their Ocean Festival. During this Festival, the Rikkaidai regulars did a comical version of the classic Cinderella play. Sanada had the role of the Prince. Kirihara, who had the role of Cinderella, ended up ripping the dress before the wedding scene. Since it was fixed and could not fit him, Ryoma was talked into playing the role of Cinderella. At the end of the play, Sanada and Ryoma had to kiss. Ryoma was far too frightened but Sanada kept his calm demeanor and even said "It is okay. Just smile." before Ryoma ran away. However, a photo of two of them was taken regardless.
Shin Prince of Tennis: Sanada seeks out Ryoma for late night chats during the mountain training arc.
Ad blocker interference detected!
Wikia is a free-to-use site that makes money from advertising. We have a modified experience for viewers using ad blockers

Wikia is not accessible if you've made further modifications. Remove the custom ad blocker rule(s) and the page will load as expected.