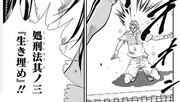 Buried Alive is the 3rd known execution method by Tohno.
Cultural References
Edit
Premature burial, also known as live burial, burial alive, or vivisepulture, means to be buried while still alive. Animals or humans may be buried alive accidentally or intentionally. The victim may accidentally be buried by others in the mistaken assumption that they are dead. Intentional burial may occur as a form of torture, murder, or execution; it may also occur with consent of the victim as a part of a stunt (with the intention to escape). Live burial is said to be one of the most widespread of human fears.
Ad blocker interference detected!
Wikia is a free-to-use site that makes money from advertising. We have a modified experience for viewers using ad blockers

Wikia is not accessible if you've made further modifications. Remove the custom ad blocker rule(s) and the page will load as expected.