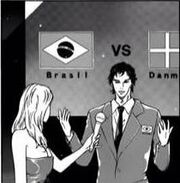 The Brazil U-17 World Cup Team is a participating team in the U-17 World Cup.
Background
While nothing is known about them, they were matched up against the Denmark U-17 World Cup Team in the Pre-World Cup Exhibition Match.
Tennis Record
They lost against Aramenoma U-17 World Cup Team and the UK U-17 World Cup Team. It is unknown whether they won or lost against Serbia. It does not matter since both Serbia and Brazil were eliminated from the tournament.
Ad blocker interference detected!
Wikia is a free-to-use site that makes money from advertising. We have a modified experience for viewers using ad blockers

Wikia is not accessible if you've made further modifications. Remove the custom ad blocker rule(s) and the page will load as expected.