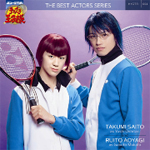 Released July 26, 2006, Hyotei's Saito Takumi and Aoyagi Ruito as Oshitari Yuushi and Mukahi Gakuto, appeared in the fourth Best Actors Series CD. They were the first doubles pair to record one.
Tracklist
Edit
Instrumental ~ On My Way DL3 Version
Katsu no wa Hyotei [勝つのは氷帝]
Do Your Best! (Rap Version)
Instrumental ~ Kounai Ranking Sen [Instrumental ~ 校内ランキング戦]
Instrumental ~ Kawabe Ni Te [Instrumental ~ 川辺にて]
Makezu Kirai (Yuushi And Gakuto Edition) [負けず嫌い・・・Yushi and Gakuto Edition]
Bohemian Blue
Jump To It!
Missing Piece
Saito Takumi & Aoyagi Ruito Message For You [斎藤 工&青柳塁斗 Message for You]
Ad blocker interference detected!
Wikia is a free-to-use site that makes money from advertising. We have a modified experience for viewers using ad blockers

Wikia is not accessible if you've made further modifications. Remove the custom ad blocker rule(s) and the page will load as expected.