This is the 115th episode of the Prince of Tennis. It is also a Chibi episode. (In order to not spoil the commedic effect, there isn't a detailed summary.)
Summary
The first half of the special is about Baseball. The Seigaku team is playing baseball and Atobe is the idol. Of course.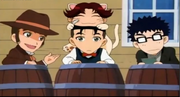 And the second half takes a western twist where we will meet the legendary gunman.
Trivia
The story in this episode is Anime-only and has no manga chapter equivalent.