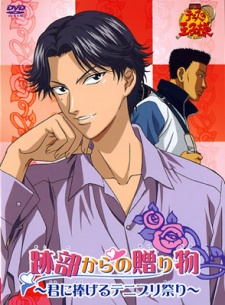 This original soundtrack was released as a collection of songs from the mini movie:
Atobe's Gift
. It contains 15 songs.
Song List
Edit
Atobe Kara no Okurimono ~Kimi ni Sasageru TeniPuri Matsuri~
Atobe Keigo Presents
Super Tennis Festival Kaimaku
Kyuugi Taikai
Kabaji no Omoi
Obake Yashiki
Chuugakusei Taikou Quiz Corner
Eden no Chuushingura
Live
Shocking Couple 5 vs 5
Shougaibutsu Relay Kyousou
Goal Suru Futari
Brand New Day (Gekijou size)
Jigajisan
Departures
Ad blocker interference detected!
Wikia is a free-to-use site that makes money from advertising. We have a modified experience for viewers using ad blockers

Wikia is not accessible if you've made further modifications. Remove the custom ad blocker rule(s) and the page will load as expected.